"Many business problems are difficult to define, and Design Thinking offers a kind of toolkit to help you work through the ambiguities."

David Dunne, Design Thinking at Work
In the constantly fast-changing world of business, innovation brings success. CEOs and product managers recognize the high stakes and pressures of bringing new products or services to market. However, these endeavors are often accompanied by significant risks and costs. Design thinking, a human-centered approach to problem-solving, has become a powerful tool for achieving these goals.
Design Thinking workshops help design teams create feasible and user-centered solutions to complex design problems. The workshops help them design better products faster, reduce costs, and increase profits. In this article, we examine the main features of Design Thinking workshops, the business benefits they bring, and an understanding of how they help reduce design risk.
Fear of the unknown
Often, decision-makers are skeptical about workshops, especially regarding Design Thinking. They typically assume that workshops are time-consuming, expensive, and disconnected from the realities of real business. But design thinking can solve many problems. Helping to allay their fears are financial statistics based on specific business cases of companies that have succeeded through such workshops.
According to the Design Management Institute, companies prioritizing the design thinking process outperform their competitors significantly. Over 10 years, these companies maintained a 228% better stock market performance. In addition, a McKinsey study revealed that companies that integrate design principles into their business processes experience 32% higher revenue growth and 56% higher total shareholder return.
What are Design Thinking product workshops?
In practice, Design Thinking workshops are collaborative sessions bringing different teams together to analyze and generate innovative ideas for new products or improvements to existing systems. For those unfamiliar with the term design thinking, the Interaction Design Foundation defines it as follows:
"Design Thinking is a design methodology that provides a solution-based approach to problem-solving. It is beneficial in solving complex problems that are ill-defined or unfamiliar by understanding human needs, reformulating the problem in a human-centered way, creating multiple ideas during brainstorming sessions, and taking a hands-on approach to prototyping and testing."
What does the workshop process look like?
Design Thinking is characterized by its iterative nature, meaning teams go through steps repeatedly to gain an in-depth understanding of user needs, generate ideas, and prototype solutions. This encourages continuous improvement and a willingness to change based on new insights.
Stage 1: Discovery
Horst Rittel, a German design theorist and Berkeley professor known for coining the term "Wicked Problems," once said, "One of the most difficult problems is defining problems." During the discovery stage, teams move from a sense of possibilities and understanding of needs to a clear picture of the current landscape to define the scope of action. Typically, this stage is completed by the core project team, who share their findings with the broader team during Design Thinking workshops.
Stage 2: Design
There is a rapid iteration during the design stage as teams shape innovation insights. In this stage, teams go through five basic stages of the thought process (according to the Hasso-Plattner Institute of Design at Stanford).
1. Empathy: The foundation of Design Thinking is understanding the needs and perspectives of those we are designing for. This includes actively listening, observing, and putting ourselves in users' shoes to gain insight into their challenges and desires.
2. Defining: We gather the information we identified previously to define the main problem or challenge to be addressed. The idea is to convey the problem in a workable and solvable way.
3. Idea: Here, teams generate various ideas for solving the defined problem. What is important is the number and variety of ideas using an unconventional approach.
4. Prototype: Once potential solutions are identified, the team creates tangible prototypes or representations of these ideas through sketches or simple models. This enables concepts to be tested quickly without investing too many resources.
5. Test: Prototypes are tested on actual users to gather feedback and insights. This step helps verify assumptions, refine concepts, and identify areas for improvement.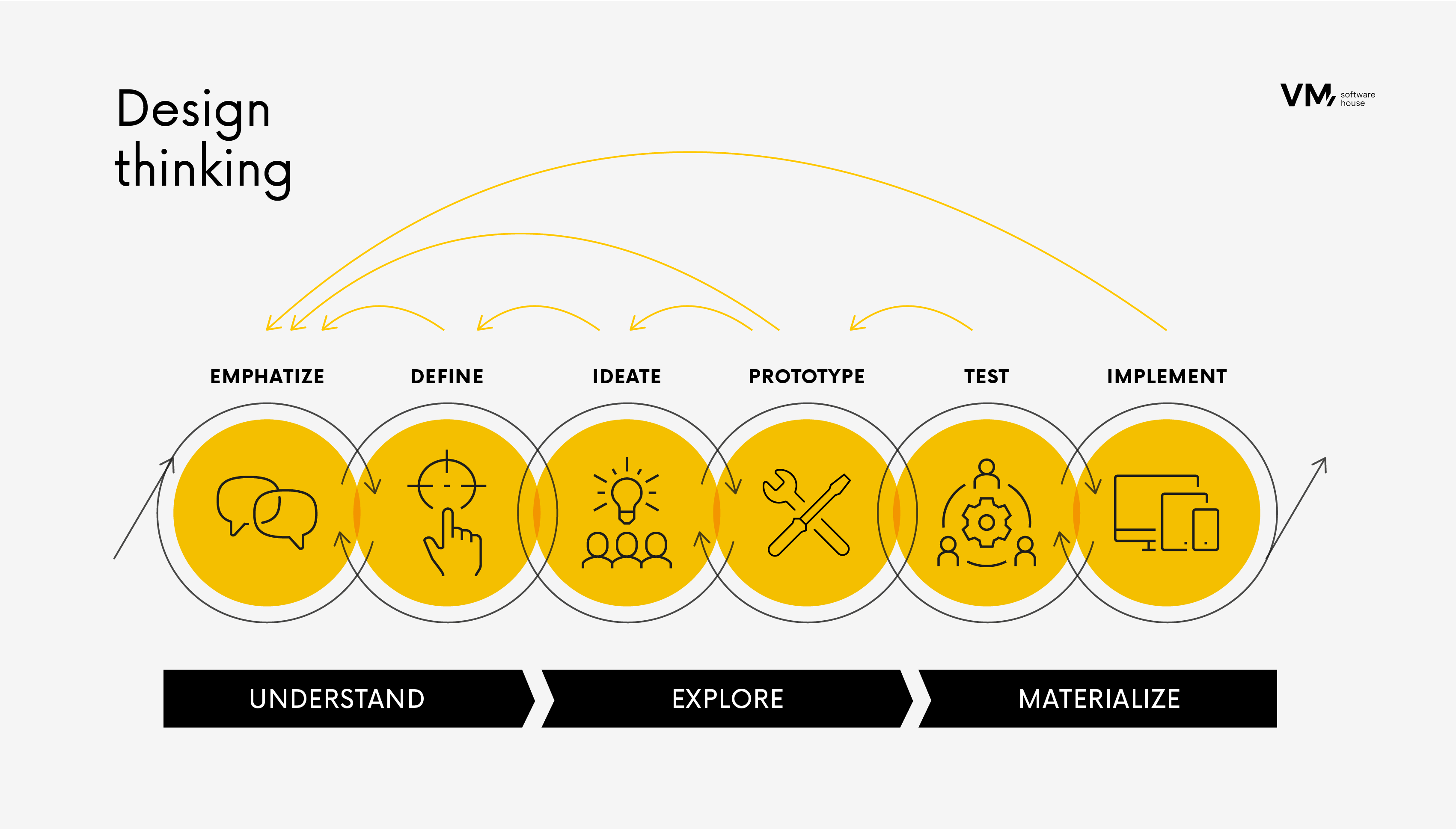 This methodology prioritizes teamwork and encourages the involvement of people with different backgrounds, skills, and perspectives in problem-solving. By approaching challenges with empathy and creativity, the Design Thinking workshop helps teams create solutions that are effective and, crucially, tailored to the user.
Stage 3: Delivery
Based on the feedback received via testing, teams refine and iterate their prototypes by integrating them with existing technologies. This often includes going back to earlier stages of the process to make necessary adjustments or generate new ideas. The key here is to deliver a solution that works in the real world.
7 Benefits of Design Thinking Workshops
1. Identifies potential threats
During the empathy stage, teams dig deeply into users' feelings to understand their perspectives, issues, and needs. This process uncovers potential challenges and risks that users may face. Comparably, we collect all the insights in the definition stage to refine the problem.
2. Cost savings through early identification of problems
One of the most important advantages of Design Thinking workshops is their ability to uncover potential problems early in development. By addressing problems before they escalate, companies can save significant time, money, and resources.
A real-life example: Ford
Ford's transformation story is a testament to the power of solving problems through workshops. During the mid-2000s, the company struggled with declining sales and outdated designs. However, by utilizing Design Thinking workshops, Ford teams identified customer preferences and prioritized features that resonated with their target audience. This approach led to the highly successful Ford Fusion, which revitalized the brand and saved the company from potential bankruptcy.
3. Promote teamwork
Design Thinking workshops facilitate collaboration between different departments and teams, fostering a culture of innovation. Innovative solutions emerge when teams' perspectives converge, reducing the risk of costly mistakes.
A real-life example: IBM
IBM faced the challenge of aligning its various business units to create a unified product strategy. Through an immersive Design Thinking workshop, IBM brought together employees from different disciplines to co-create solutions aligning with customer needs. This collaborative approach optimized product development and led to a 301% return on investment, demonstrating the financial impact of effective cross-team collaboration.
4. User-oriented solutions
Workshops ensure products and services are tailored to customers' needs, reducing the risk of investing in features that don't resonate with target audiences.
5. Rapid prototyping
Companies can avoid costly mistakes and iterations later in development by creating prototypes and receiving user feedback early on.
6. Shorter time to market
Design Thinking's streamlined problem-solving approach accelerates project turnaround time, bringing products to market faster while capitalizing on business opportunities.
7. Increased innovation
Workshops positively influence a culture of innovation in which employees feel empowered to contribute ideas and experiment, driving continuous improvement.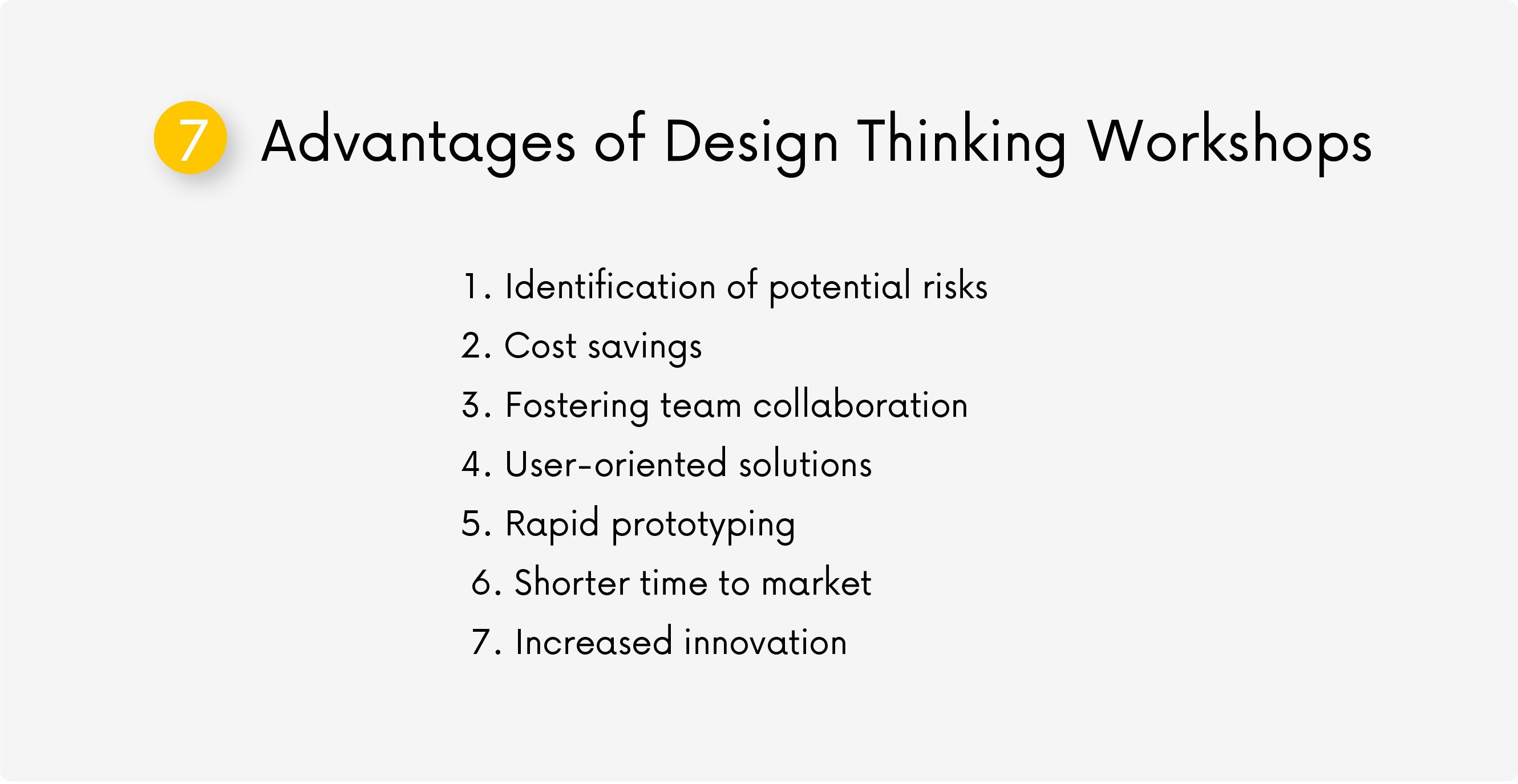 Results of a Design Thinking workshop for a manufacturing client
We conducted a product workshop for a manufacturing client in Germany that required an in-depth insight into the client's business. The main objective was to develop and propose a new system architecture with a migration path to a new and customized one, increasing the efficiency of data processing required by production machines. A thorough analysis of the client's system helped develop an architecture based on events and microservices, which influenced the detection of bottlenecks in the system and their optimization to improve information flow.
The benefits clients receive from the Design Thinking workshop include:
Cost savings - instead of experimenting in-house and pulling away developers from the main tasks, the team received a ready-made solution.
Innovative solution out of the box - thanks to an objective approach, we took a factual look at the client's current architecture and the goals they want to achieve.
Modern technological and architectural solutions
Active cooperation - the client's team actively participated in the process, from exchanging experience on the technological approach to actively drawing diagrams and other processes.
Significant risk reduction - by not having to experiment with new technology solutions on their own, the client's team saves time from making mistakes in early system adoption.
The future through design thinking
Companies must adapt and innovate to be financially successful in a world of constant changes and fierce market competition. By capitalizing on the value of workshops, companies produce better products, reduce development risks, and increase their chances of project success. Adopting this collaborative approach is a strategic step toward staying competitive and delivering solutions that meet customer expectations.