Have you ever felt overwhelmed by a restaurant menu, needing assistance to decide? The scenario is similar to an IT project where customers confront numerous solutions but require precise guidance for successful implementation. In this context, a Customer Success Manager is essential, overseeing the project comprehensively and ensuring both satisfaction and long-term sustainability.
Understanding the necessity to boost customer satisfaction and retention is one thing, but knowing how to achieve it is another. Although you might possess a customer service team, that alone may not be enough. Employing a customer success manager could be the solution required to increase customer retention and satisfaction.
CSMs drive product development for long-term market success, ensuring sustained audience engagement. They collaborate with stakeholders and development teams, overseeing successful and seamless project progression. But first, let's delve into the specifics of a Customer Success Manager's role.
Who is a Customer Success Manager, and what do they do?
CSM functions as both the account manager for the client and the team. They merge aspects of an Account Manager for the client and a Scrum Manager for the developers. Once the terms of cooperation are established, they focus on assembling a team tailored to the client's needs, capable of introducing new solutions or extending existing ones. Success depends on aligning individuals and requirements to ensure client satisfaction with the service provided.
The CSM's role includes seeking solutions for potential project issues. For this purpose, they maintain continual communication through meetings, discussions, and a robust feedback culture. This approach fosters strong relationships and trust, which is crucial when proposing solutions to various situations.
An effective manager is proactive in problem-solving and looking for solutions across different teams. Their accumulated internal knowledge allows them to navigate obstacles swiftly, potentially resolving issues before they escalate. This decreases stress, costs, and frustration for the team and the client. Moreover, it provides an opportunity to share expertise and experience, benefiting other projects or the client's future service portfolio development.
Rafal Guzik is an experienced CSM at VM.PL shared his experience with us:
"Many times, I supported the client in improving their processes, for example, by introducing a BI role. This meant that developers no longer had to set up tickets in Jira or describe tasks and could focus on writing code. This, on the other hand, sped up the project, the approval process, and the level of satisfaction on both sides. Our job is to suggest changes to the client that will give them real value. It's about building a stable team that will support them in the long term."
Why is the role of Customer Success Manager needed in many companies?
The Customer Success Manager (CSM) is essential in many companies as they play a pivotal role in product development and maintaining customer satisfaction and retention. As a crucial link between the company and its customers, CSMs guarantee that customers obtain the necessary support, guidance, and attention for success with the company's products or services.
Using a Customer Success Manager for IT projects offers numerous advantages, helping to ensure the successful implementation and continual utilization of technology solutions. Here are some key benefits:
Aligning the project with business objectives: CSM works closely with clients to comprehend their goals, ensuring that the IT project aligns with the client's objectives, resulting in a solution that directly contributes to their success.
Better adaptation: CSMs are key in encouraging users to implement new IT systems or software.
Proactive problem-solving: CSM monitors IT project progress and performance, swiftly identifying and resolving issues or bottlenecks to minimize disruption and keep the project on track.
Personalized support: CSM provides personalized customer support, understanding their unique needs and challenges. This tailored approach ensures prompt assistance and guidance for customers.
Communication with stakeholders: CSM facilitates open communication among project stakeholders, including the IT team, management, and end users. This transparency aids in managing expectations and keeping all involved parties informed about the project's status and any alterations.
Risk mitigation: CSMs evaluate potential risks and vulnerabilities in IT projects, taking measures to mitigate them. This reduces the likelihood of costly failures and ensures a more streamlined project execution.
Scalability: In larger IT projects, CSMs aid clients in scaling their technology solutions as their needs evolve. They can organize meetings with technology specialists to recommend additional features, integrations, or upgrades, adapting to growth and evolving requirements.
Feedback collection: CSMs actively gather feedback from customers and end users during the project's lifecycle. This feedback is invaluable for making adjustments, improving the project, and enhancing the overall customer experience.
Customer satisfaction: Ultimately, the presence of CSM leads to higher levels of customer satisfaction. Customers feel supported and well-guided throughout the IT project, fostering trust in the technology solution and service provider.
Building long-term relationships: CSMs facilitate lasting connections between customers and IT service providers, potentially resulting in recurring business, referrals, and further collaboration opportunities in the future.
In IT projects, the Customer Success Manager is a valuable partner, supporting project success and aiding clients in maximizing the value of their technology investments. Their proactive, customer-focused approach can differentiate between a project that merely meets expectations and one that genuinely stands out.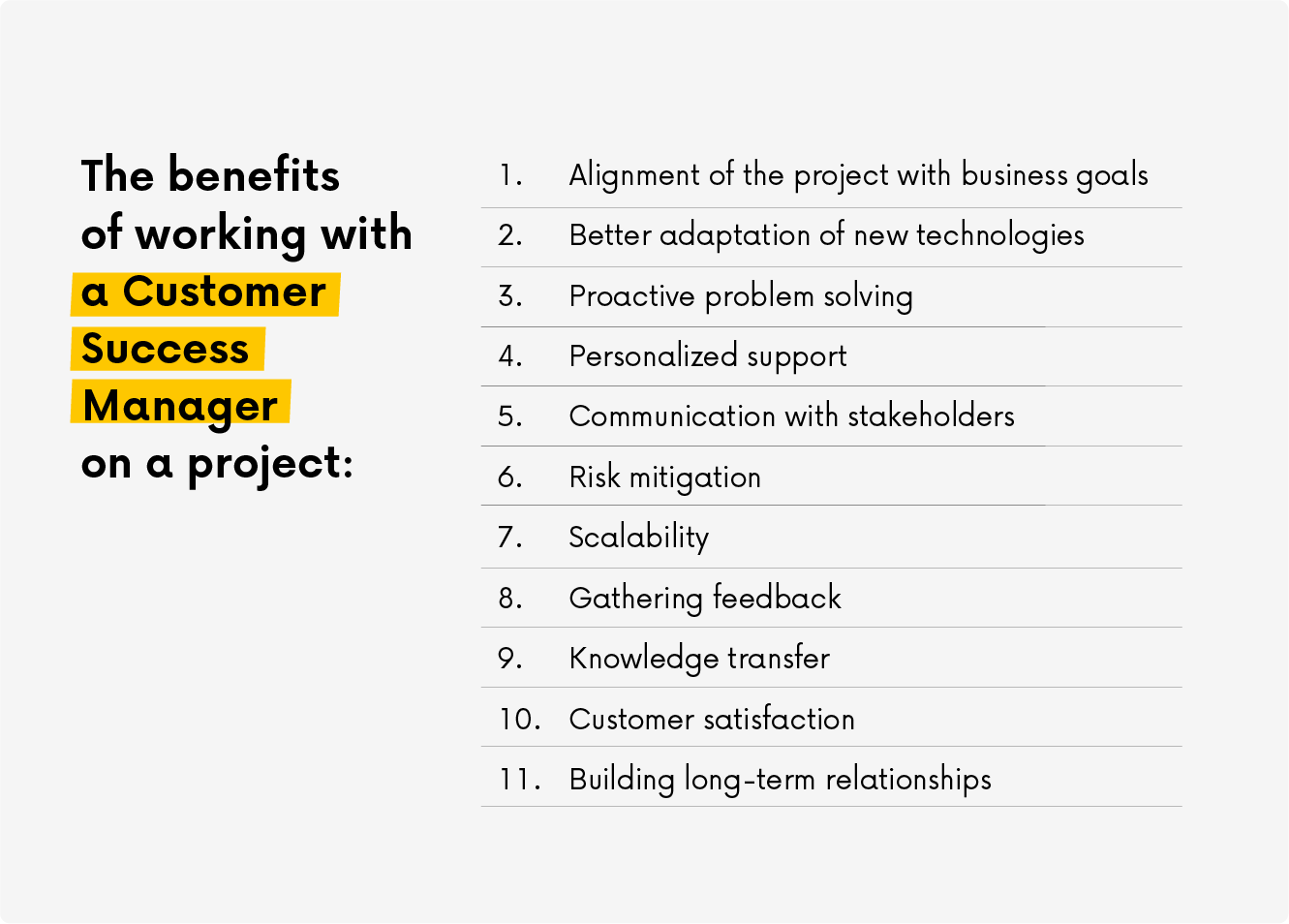 What does the success of a client's project mean to CSM's?
Let's hear Rafal's opinion on what customer success means to him as an experienced Customer Success Manager.
"The most important thing is that each party succeeds—the customer and the team. For me, success is the level of satisfaction but also the awareness of the real value that the client got from our cooperation. It could be high-quality code when we do a rewrite of a particular product, or in the case where we get a whole product to do, it could be enrichment, such as additional activities such as migration to the Cloud. Of course, the final point is that the client can earn more thanks to our work - the value in business, however, is measured in revenue."
A practical example of success from working with CSM's
One of our best examples of such fruitful cooperation is TestDaf, with whom VM has worked for five years. This client came to us asking for support in the digital transformation of the products they have at home. TestDaf is an institute evaluating the German language proficiency of individuals aspiring to work or study in Germany. Their assessment and certification processes were entirely manual and paper-based until this initiative.
During the transition to IT development in the education sector, the client sought our support for scaling and adjustments. Initially starting with two developers, we've since expanded to a team of 10 individuals. These professionals not only code but also offer insights into how future projects should be implemented. The client recognizes and appreciates our expertise and experience, made achievable through the dedication and approach of our CSMs. Their consistent communication supports the client in devising innovative concepts and ideas to develop their business further.
Does the CSM often modify the client's vision plans for project success?
In-depth project analysis frequently necessitates adjustments to initial assumptions or findings. Experienced developers collaborating with the CSM can guide clients on alternative technological solutions or newer software versions.
One example is the story of a client with a clear vision of what he needed in a project and how it should be carried out. The idea was based on knowledge about microservices acquired at a conference and from publicly available materials. CSM took steps to find out if this was indeed the best option. After performing a business analysis, they determined the need, with the result that for this project, microservices would be a so-called "over-head" or unnecessary implementation. Consequently, the client opted for an alternative architectural solution. With the support of the CSM and the development team, this decision enabled us to create a more efficient solution, ultimately saving the client considerable time and money.
What is most important to the client when project obstacles arise?
Primarily, actively listening to the client's needs and being transparent about them is crucial. This honesty translates into clear communication and sharing of information regarding potential risks in the collaboration.
The CSM acts as the bridge between the business and technical domains. They serve as an intermediary, facilitating the team to provide feedback or express opinions that might not be feasible within a direct team-client relationship.
When faced with technical challenges, the CSM typically arranges a meeting between a subject-matter expert and the client. This meeting allows the expert to elucidate complex data regarding the risks and advantages, such as implementing a newer, more stable framework. In cases where the CSM acknowledges that the team's proposed solution is right, but the client can't implement it, possibly due to budget constraints, they strive to provide the developers with a comprehensive overview and determine what priorities are important to them.
When addressing interpersonal issues, an experienced CSM consistently listens to the client's concerns and remains receptive to their perspective. They refrain from imposing their views, even when strongly believing they are right. Instead, they offer choices and present the complete scenario, leaving the final decision in the hands of the client.
Summary
This article highlighted certain tasks of CSMs in attaining IT project objectives. Their skills in recognizing and addressing risks, involving stakeholders and the development team, and fostering trusted relationships contribute significantly to the success of IT projects. The impact of CSMs on project performance certainly cannot be overstated. Real-life examples of our client's success demonstrate this.
Are you ready to apply the knowledge and experience of a Custom Success Manager to your next IT project? Contact us to find out how this specialist's role will impact the success of your product. Our CSMs are happy to talk to you and share their insights.