For many years, advancing globalization has familiarized us with the tried-and-true business model of outsourcing IT companies from Asia. However, since 2020, the economic landscape has changed rapidly. Events such as COVID-19, the war in Ukraine, and rising inflation have caused many companies to switch to nearshoring as a new work model.
In today's competitive business landscape, the quest to save money while maintaining quality and efficiency is an ongoing challenge. With help comes nearshoring, a strategic approach to outsourcing that is gaining popularity among companies looking to optimize costs and streamline operations.
If you are a manager seeking ways to cut expenses without compromising productivity, this guide to nearshoring may interest you.
Uncertain economic situation in 2023 vs. project development
The geopolitical situation, particularly the war in Ukraine, has strongly affected the state of many countries' economies. Notably, German companies have felt uncertainty due to the rise in prices of raw materials, especially oil and gas. Additionally, drastic price jumps were evident in heavily energy-intensive industries. Even after the shock subsided, energy prices remained elevated compared to production locations elsewhere, especially outside Europe, negatively affecting competitiveness. Moreover, this was reflected in Germany's inflation rate of +6.1% in August 2023.
Nevertheless, the economic outlook is positive. Despite the negative sentiment, we expect a return to moderate recovery in the third and fourth quarters of 2023, driven by private consumption and a decline in energy price inflation. The German ICT market was valued at $169.62 billion in 2022 and is expected to reach $306.77 billion by 2027. It is worth noting the total revenue-generating potential between 2022 and 2027 for ICT service providers in Germany is estimated at $1371.47 billion.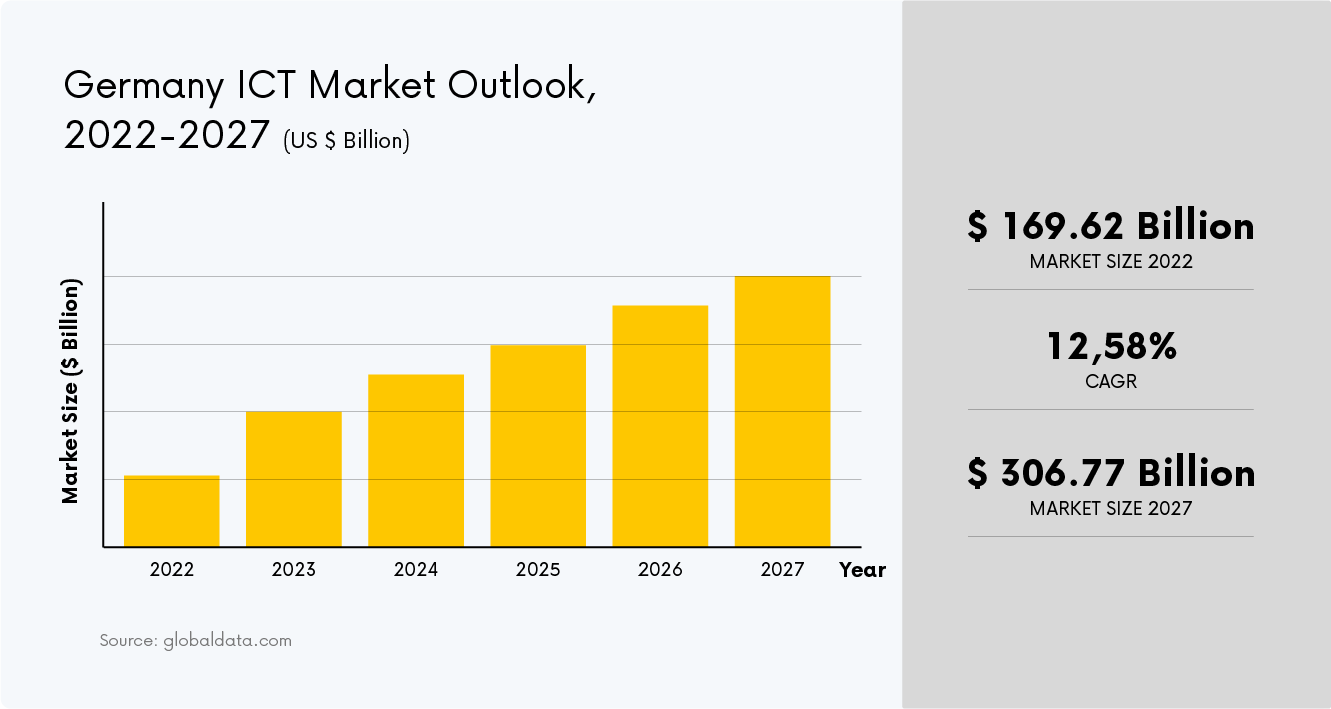 The above statistics clearly show that the digital transformation of companies continues to drive investment in software segments. Software focusing on digitizing, automating processes, and analyzing data to gain better business insights and increase productivity is particularly in demand. This requires finding high-level IT professionals who understand companies' business needs. However, according to European Digital Compass 2021, the European Commission estimates that by 2030, there will be a shortage of 8 million ICT professionals in the EU. As such, the best solution is talent nearshoring.
What is nearshoring, and why is it gaining popularity?
Nearshoring is a business strategy often used in manufacturing and information technology (IT) services. It involves outsourcing certain business processes or services to companies located in nearby countries. Nearshoring typically refers to countries within a few hours' flight radius from the headquarters of the client organization.
Nearshoring is gaining popularity because it allows companies to take advantage of lower labor and production costs in neighboring countries while minimizing some of the risks associated with offshore outsourcing. Particularly during inflation, when costs rise, companies are predominantly interested in cost-effective solutions to scale the business further.
The balance between quality and cost - the economic advantages of nearshoring.
One of the perennial challenges companies face is balancing delivering the highest quality products or services and keeping operating costs in check. The relentless pursuit of cost-cutting often leads to a reduction in quality, affecting customer satisfaction and brand reputation.
The technical aspect of this challenge focuses on finding and retaining qualified talent. It's no secret that certain skills are in high demand, and competition for these professionals is fierce. Recruiting and retaining top-notch technological talent can be costly, especially in large urban centers with inflated salaries.
What does it look like at VM.PL?
In terms of rates, the cost of VM.PL specialists are favorably priced compared to the rates of programmers in Germany. The engineering teams are so highly qualified that they actively implement projects and introduce new technological approaches. VM.PL specialists have often worked in many European companies and have much knowledge to bring to the collaboration.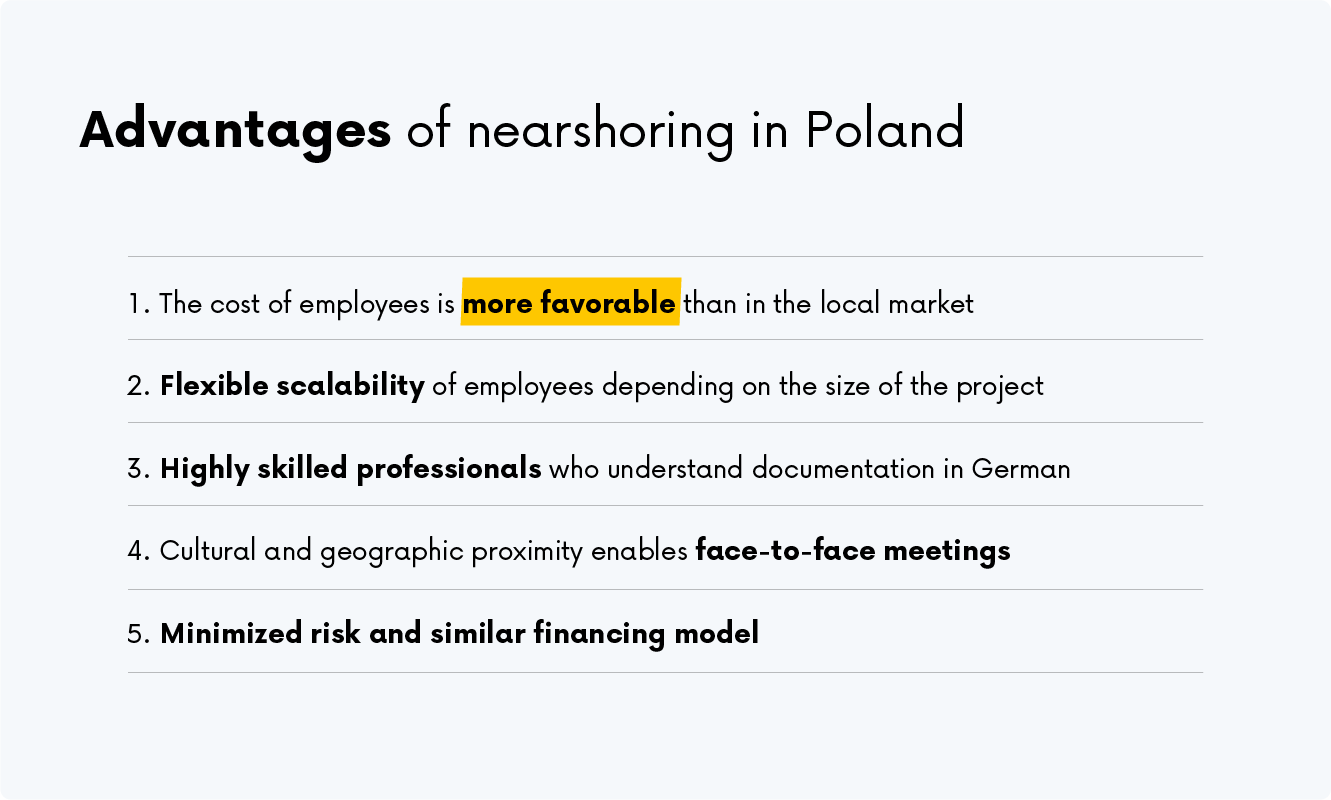 Quality control and understanding of documentation
Nearshoring allows companies to maintain tighter supervision and control over the production process, essential to maintaining product quality. This is crucial during inflation when companies are often pressured to cut costs but cannot afford to compromise on quality.
Germany has a clear shortage of specialists who speak German. A common demand is refactoring older systems and migration to new technologies. Many times, the blockade in cooperation is documented in German. The specialists who implemented it are always active, so there is a good chance of a smooth transition to the new technology, thanks to VM specialists speaking fluent German.
Flexible scaling - nearshoring improves project flow
Nearshoring allows you to tap into a huge pool of highly skilled professionals without the challenges of recruiting and retaining employees in the local market. The numerous benefits include the flexibility and ease of scaling the number of employees to match project requirements.
According to one of our clients, Systema, this flexible approach is key in nearshoring cooperation.
"We need to be able to scale up or down in a short period of time. Depending on the project. That's why working with a contractor like VM.PL is just good because it's easier to say: OK, we'll need ten people for the start-up phase, but within six months, we only need five. This gives us more flexibility, especially when everything in today's world is changing" (H.Leps. Marketing Manager, Systema).
Risk minimization and cultural proximity in nearshoring
A shared cultural and business environment leads to smoother interactions. Geographic proximity to a partner means better time-zone matching and easier travel for face-to-face meetings. This improves communication, collaboration, and the overall efficiency of project execution. Moreover, communication in the client's - German or English – language makes day-to-day work much easier.
Financing model and tax compliance
Particularly in Europe and concerning outsourcing locations in Poland, which is an EU member, there are significant advantages in compliance with tax systems and taking advantage of legal rights. EU members enjoy free trade among themselves, making life easier for accounting departments and eliminating additional tax burdens such as VAT. According to GridDynamics statistics, 75.58% of companies in the DACH region hire developers for their projects in Europe, 20.48% in Asia, 3.15% in Africa, and only 0.79% in South America.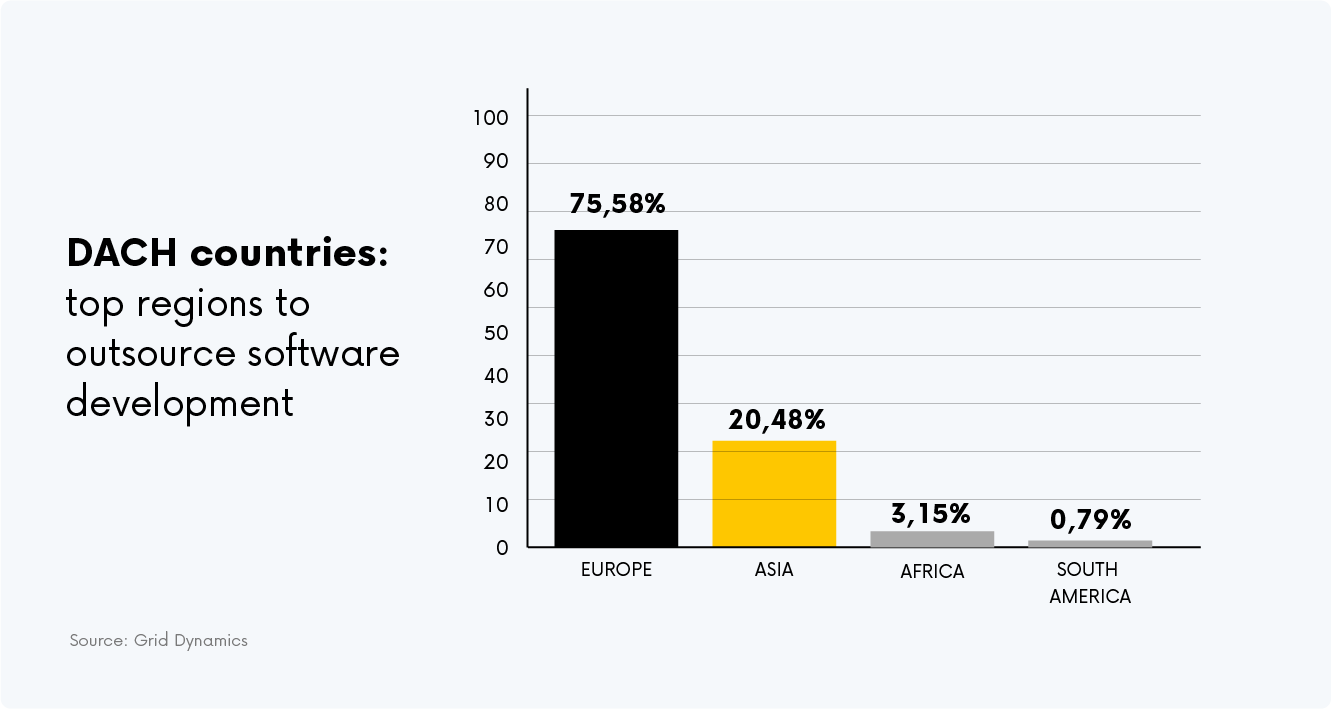 Summary
Companies seek ways to contain rising costs and maintain profitability in times of inflation. Addressing the business and technical challenges of balancing quality and cost while accessing a skilled workforce demonstrates the value of nearshoring. It is an attractive option for companies looking to adapt to economic challenges. Furthermore, it provides cost-effective proximity and access to a pool of skilled talent - essential for success in the modern business landscape.