At a time when the pace of technological progress is breaking records, out-of-date software is often gone within a year. When the world is rushing forward at the speed of light, regular system updates are a necessity, not an option to consider.
Standing still means certain business death, so you can look at a system update as an investment for the future that will give your business a competitive advantage over companies that get stuck deep in the past. Let's go through the key benefits of a system upgrade point by point.
What are the benefits of regularly updating your system?
Firstly, the use of off-the-shelf solutions simply minimises the costs of testing and developing the system, which allows you to achieve satisfactory results with a low budget. Change is the only certainty, and continuous improvement of your system's architecture improves the speed of implementing changes and delivering new functionalities, which of course is a huge plus in today's world. In addition, if the system has been designed specifically for your needs and only certain employees know its ins and outs, the company is vulnerable to employee blackmail and internal crisis if those responsible for the system are absent. Keeping the system up to date makes it unaffected by employee turnover and a potential change in personnel will not shatter the entire internal structure of the company.
It is also worth remembering that technology is constantly evolving and software that has not been updated for years becomes expensive to maintain. Manufacturers often drop support for older technologies and release new software to the market. When this happens, system maintenance and development becomes costly, and a rarely updated system becomes vulnerable to digital threats and hacker attacks. Updating the system allows you to increase the security of your architecture and, in turn, protect your data and reputation. A data leak is a reputational disaster that many companies cannot survive. Leaving aside the issue of security, which is key for many clients, new technology solutions are scalable, allowing for increased system speed and therefore performance. In a world where efficiency is the foundation of success, the ability to continually improve performance is priceless. The best investment is one whose fruits you can reap for years: this is exactly the case with system upgrades.
Apart from the obvious benefits such as increased productivity, competitiveness and satisfaction of system users, it is also worth paying attention to the human factor, namely your programmers. The ability to use new technologies will increase their job satisfaction, as they will constantly learn new things, which will allow them to create better products. Professional development of programmers is in the interest of the company, as it reduces the likelihood of them leaving to join the competition. A promising programmer is a specialist whose work will open a window to a better tomorrow.
A regularly updated system is not just about elements that remain invisible to the eye: a modern and optimally functioning GUI requires up-to-date technical solutions, because the way user interfaces are designed has changed many times over the years. Market giants such as Google, Microsoft and Facebook are constantly setting new UX trends, and customers are visual learners, so a beautiful design that they can interact with efficiently will work in your company's favour.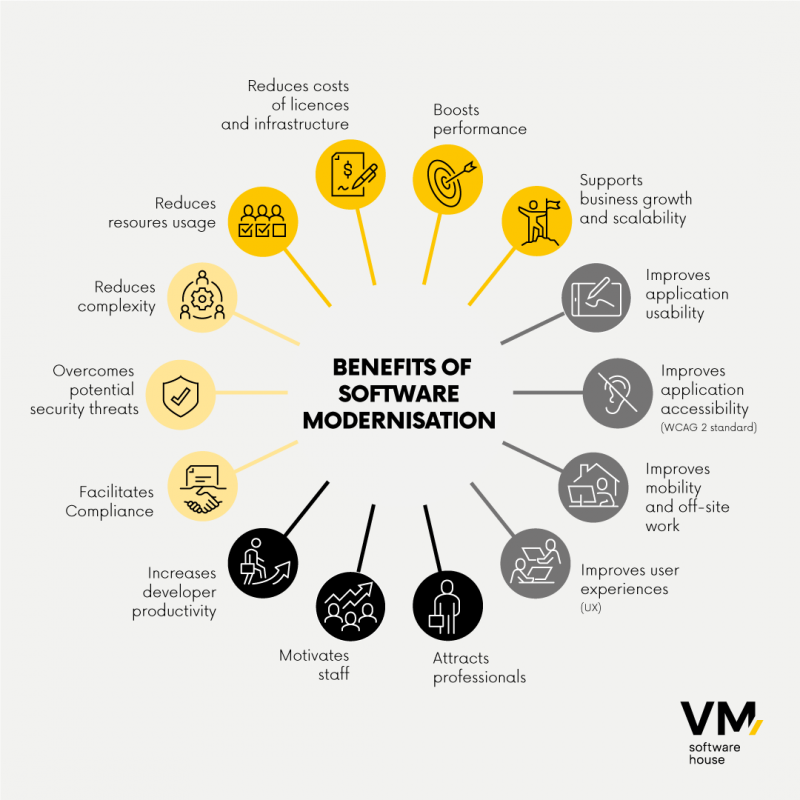 How to update your system efficiently?
First of all, you should start with an audit, which will give you an accurate picture of the situation and help you draw up an effective action plan. To conduct an audit, you need a specialist with extensive technological experience. No system is the same, so updating it requires an individual approach and choosing appropriate solutions. Sometimes just changing the process of software development gives the desired results, and other times a change of system architecture or used technology is needed. If there is no person in your organization who is able to efficiently carry out the audit, you can look for an external company that specializes in this area, or simply send your employees for training to gain the necessary knowledge on the subject.
If a system change will entail a UX change, it is essential that you understand exactly how users use your system and what solutions can maximise their experience. Finding the optimal solution requires experience in User Experience (UX) design, so if your team doesn't already have experience, it's worth investing in expertise or external help. Some problems will require out-of-the-box thinking and in-depth knowledge of available solutions, so without background information, it will be difficult to design effective solutions.
What problems can you encounter when updating your system?
Many of the problems you can encounter when updating the system are directly related to the human factor. The developers of the system must be open to change, because if internally you are unable to reach an agreement, an audit by an external company may not bring any benefit and lead to a tense atmosphere in the company. If the desire to improve the system turns into an internal conflict, it is worth considering the motivation that drives your employees. An experienced programmer is not afraid of a matter-of-fact discussion and is ready to learn new solutions if necessary. If the people who built the system absolutely refuse to make any changes, they are probably not motivated by the good of the company at all but are afraid of losing their position in the company, which the knowledge of the system gives them.
When change is the only certainty and technologies are evolving at a rapid pace, upgrading off-the-shelf solutions is a must. The future belongs to those who constantly adapt to changing realities, and a system update is an investment in the well-being of the entire company, as it promotes increased staff competence, speed of system modifications and maintenance, system security and performance. A more efficient system means lower costs and greater customer satisfaction, so improving the internal architecture benefits many aspects of the business. With regular system updates, your business can cope in all circumstances, even with high staff turnover.
Updating your system is an investment in the future of your business as it helps to improve productivity, security and customer satisfaction.